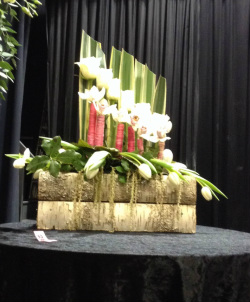 Welcome to our website; we hope it will give you lots of information about Avon Floral Art but if there's anything else you'd like to know, do email us or visit our Facebook page.

We are a friendly club with 50 members which was founded just over 50 years ago. Our aim is to inspire and encourage our members and visitors to enjoy flower arranging, taking flower arranging to the next level with inspired designs, and putting a twist on the traditional. Our members range from beginners to others with a huge wealth of experience.

By watching experienced and entertaining demonstrators we hope that this will encourage you to try it yourselves at home, perhaps take in some classes, or you can just sit back and enjoy the demonstrations. Demonstrations are by NAFAS Area or National flower arrangers or professional florists. In addition to this we hold workshops, garden outings, visits to dems at other local flower clubs and an annual photographic competition. Every month we also have a floral art competition for members, there's a different theme each month – it isn't in any way compulsory as we realise that some members prefer to watch flower arranging rather than participate – so there's no pressure! It's a bit of fun, and arrangements can be made at home and brought in. We also have a raffle draw where anyone stands a chance (as long as you have bought a ticket of course!) of taking home one of the fantastic arrangements from the evening's demonstration. There is also a floral sundries sales table selling everything you need for flower arranging. In addition we have a speciality sales table – books, cakes, plants, cards. Do have a look at our programme page for further details.

You don't have to be a flower arranger to join the club, but if you love flowers, we'd love to see you.

---